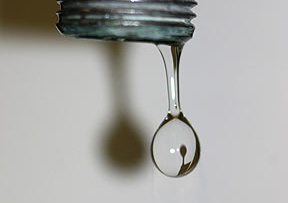 photo credit: Andrew Davidhazy, Rochester Institute of Technology
This photo shows the formation of a long neck, which is produced by surface tension. For a related and well-illustrated site on drops and surface tension, see Drop Formation. Also, you might enjoy this movie of water dripping slowly from a tap.

Going back to the photo above, note the real image of the drop's shadow. For a similar photo, see the 2005 AAPT High School Physics Photo Contest, Contrived Category, Honorable Mention (at the bottom right). To make a water drop magnifier, visit Kitchen Science Experiments: Drop Magnifier.
Try this Exploratorium activity, "Electrical Fleas," to investigate static electricity. For a related Exploratorium activity, see "Charge and Carry."