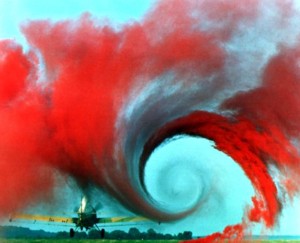 photo credit: NASA; image source
This photo (hi-res version) shows the vortex wake behind a small propeller plane. To learn more about this photo, visit Wing Vortex Wake.

For more on wing vortices, and the danger they can pose to small planes following large ones, see the US Centennial of Flight Commission's Wing Vortices and Wikipedia's Wingtip Vortices. For an illustrated study of the Boeing 747's wing vortices, see NASA's Boeing 747.
You can build your own "vortex generator" with just a few simple, household materials. The PBS' Air Cannon shows how to build an air cannon from a plastic bag, bucket, and rubber bands--just be sure to have an adult working with you. There is even a poll so that you can report your results and compare them with what others found.

(This feature was updated on June 28, 2010)