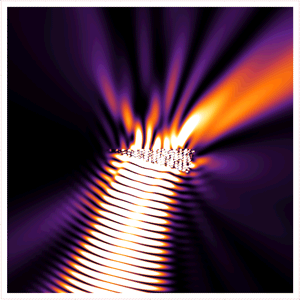 image credit: Mário G. Silveirinha, Physical Review Letters 102, 193903 (2009); image source; larger image
This image shows a prediction of how a "metamaterial" prism bends light. The prism is the white wedge in the middle, and the white light shines on the prism from below. To learn about metamaterials, see Through a lens, darkly and this Discover Magazine article.

Compare the position of the red light in this spectrum to what you see in Physics in Your World.
Cloaking and Invisibility: Fact and Fiction
We might not have to steal Star Trek cloaking technology from the Romulans after all. Cloaking and Invisibility: Fact and Fiction , from a research group at Duke University, outlines our current understanding of the technology and their research efforts, examining cloaking technology in science fiction along the way. For more on the physics of invisibility cloaks, see this article from PhysOrg.com.